Description
The Munckhof Air System Orchard Sprayer (VariMAS Orchard Sprayer) has been developed in close collaboration with fruit growers and meets their growing demand for more spray capacity, an even higher drift reduction and even more accurate leaf coverage. With Munckhof VariMAS 3, you deal with three rows at a time. Precisely because of this, you are able to treat your entire area very rapidly in the event of emerging illnesses or in ideal (weather) conditions.
99% Drift reduction demonstrated by Wageningen University
The M.A.S. excels through optimal leaf coverage and the highest possible effect of the applied agents. This is ensured by the accurate adjustment of the driving speed, pressure on the nozzles (7 bar) and the rotation speed of the pump. The high-quality distribution of air and liquid ensures direct air flow and optimum atomisation. This creates a minimal loss of valuable resources. The VariMAS has a drift reduction of 99% as was demonstrated by Wageningen University (WUR).
Agitator and mix pump for constant homogeneous mixture
Because the VariMAS 3 sucks air from the top, the installation does not take in any leaves and blossom. The VariMAS is equipped with a mechanical agitator for a constant, optimal distribution of water and active substance. A mix pump prevents clogging of the cap and silting up or contamination of the filters during filling. The air pockets are flexible, lightweight and do not oxidize. They therefore have a long service life. The M.A.S. orchard sprayer is widely applicable in both fruit cultivation and viticulture worldwide.
VariMAS 1 Row, 3 Row and 3 Row Vineyard
The VariMAS 3 Row Orchard Sprayer is suitable for simultaneous treatment of 3 rows. The M.A.S. is therefore cost-saving in both labor, fuel and machine hours. The VariMAS 3 rows vineyard sprayer has been specially developed for use in viticulture and berry cultures. The M.A.S. is also available in a compact spraying installation for the application of crop protection, one row at a time. This VariMAS 1 Orchard sprayer is flexible, agile and has a high capacity.
Download leaflet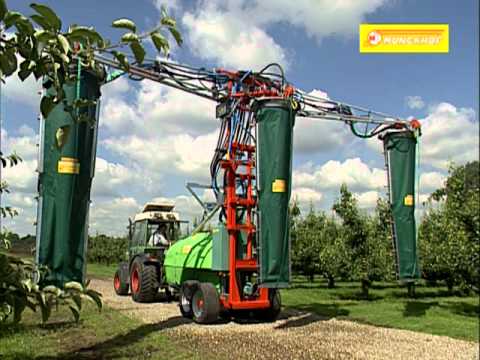 Technical specifications
| | |
| --- | --- |
| Tank capacity | 1000 - 2000 - 3000 L |
| Rinse tank contents | 120 L |
| Tank contents, wash hands | 15 L |
| Tank material | Polyethylene |
| Track width | 1000 - 1250 |
| PTO power required | 65 PK |
| Weight | 720 - 1760 KG |
More Spray installations